At The Graduate Project, we understand the importance of gaining valuable experience to expand your future career prospects. Engaging in an internship not only opens doors to a wider range of opportunities but also allows you to earn while you learn.

We offer internships ranging from 0 to 12 months for graduates. This provides a unique chance to hire candidates while they are still studying, giving you insights into their work style and assessing their compatibility with your company.

Our candidates recognise the significance of acquiring industry experience before completing their degree, as it greatly enhances their employability after graduation. Whether you need an intern during summer breaks or on a part-time basis, we can facilitate the right fit for your organisation.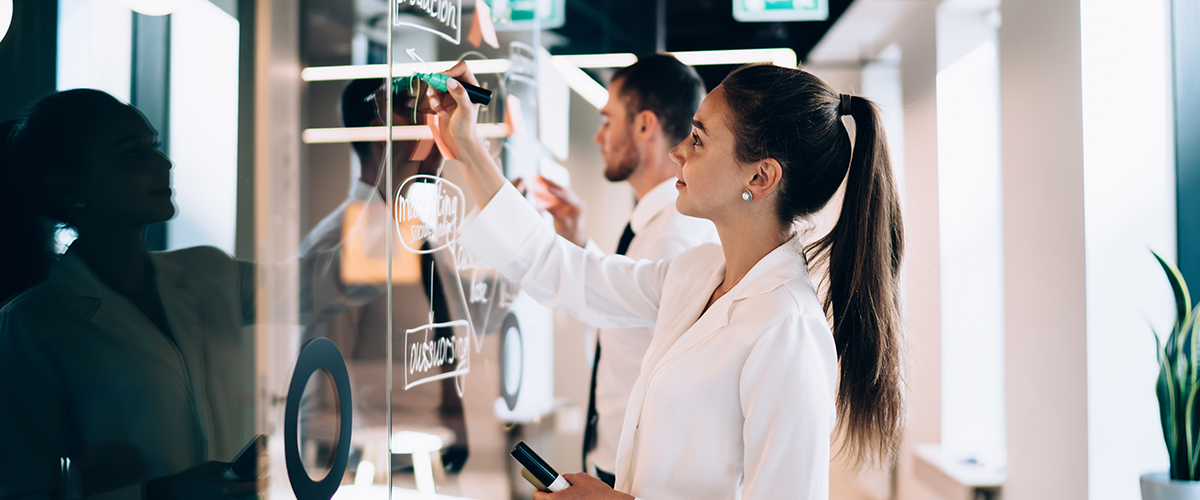 Benefits
A graduate internship offers you a glimpse into the real working world and is typically conducted over a short-term period. In many cases, interns exhibit impressive performance and are subsequently offered permanent positions within the company. The nature of your internship will vary depending on the industry you are in. Generally, interns receive supervised practical training, providing them with valuable hands-on experience.
While not obligatory, aligning your internship with your academic background and career goals can amplify its value. Such internships serve as valuable stepping stones toward securing permanent professional employment. Internships need not be confined to specific roles; they can encompass a broad range of responsibilities within an organisation. This versatility allows you to explore various functions and gain a well-rounded perspective.
Common employers of interns include financial services, banking, law, and engineering firms. In addition to their regular graduate recruitment strategies, these organisations actively promote their internship programs. Overall, internships play a vital role in enhancing your employment prospects by equipping you with essential work experience. We offer a diverse array of internships across multiple sectors. Feel free to reach out to us or register for more information on the latest opportunities available.
3 Steps to Finding The Right Graduate Job
1. Research The Industry
It is important to research the industry you want to go into. There are several websites that can help you do this. Once you've found your potential employer take the time to find out more about them ensuring that their values match yours. By doing this, you ensure that you won't have to greatly adapt your CV and cover letter each time to fit a role.
2. Block Out Time To Apply
Application forms are lengthy, and you need to dedicate time to them. Recently, companies are requesting CVs, supporting statements and competency questions so be certain to make sure these are of a high standard. Make a habit of first constructing your content using a word processing app to avoid spelling and grammatical errors.
3. Network & Use Your Social Presence
Just like graduate jobs not all the best internships are advertised. This is a great time for you to go out, talk and engage with professionals in your chosen field. Talk to family, friends or potentially your university careers team about who they could potentially link you to. LinkedIn is an advantageous tool where you can directly connect with professionals and organisations. Create a profile which lets your competencies and skills stand out. Post updates, be active and let your connections know what you are looking for. Using your online presence can be a major advantage in gaining an internship. You can also look into setting up a blog, this would highlight your creative and commitment to your chosen field.

The Benefits of Being an Intern
Internships offer valuable work experience and skill development opportunities. As an intern, you will engage in diverse projects that enhance your abilities and broaden your skill set. These experiences play a significant role in setting you apart during job interviews, showcasing your capabilities and potential for success.

Making The Most of An Internship As a Graduate
An internship is an opportunity to demonstrate your skills in a professional setting. It is important to make the most of your experience and utilize all the resources available to you. These are some things you should consider:
Set Clear Goals
Take the time to establish personal goals for your internship, such as acquiring new skills or knowledge. Write them down and create a plan to progressively work towards achieving them.
Regularly Meet with Your Supervisor
Recognise that people are often busy, so it's up to you to take the initiative and schedule regular meetings with your supervisor. These meetings provide an opportunity to receive feedback on your performance and ensure you're on the right track. If face-to-face meetings aren't feasible, discuss alternative methods to maintain effective communication.
Embrace Confidence and Positivity
Maintaining a confident and positive attitude can be challenging, but it's crucial. Acknowledge that making mistakes is part of the learning process and approach any criticism with a positive mindset and self-reflection. Remember the reasons why you were interested in the internship in the first place to stay motivated.
Don't Hesitate to Ask Questions
Don't be afraid to ask questions when you're unsure about something. Seeking clarification demonstrates your eagerness to learn and grow. It's better to ask for guidance than to remain uncertain and potentially make avoidable errors.
Be Open to Seeking Help
Recognise that everyone needs assistance at times. If you encounter challenges or need support, don't hesitate to reach out and ask for help. It's a sign of self-awareness and resourcefulness.
Expand Your Network
Networking is essential for both short-term and long-term career success. Take the opportunity to connect with professionals beyond your department. Engage in conversations, attend networking events, and leverage your contacts to build relationships and expand your professional network.
Ensure You Have Tangible Accomplishments
As you navigate through your internship, strive to achieve tangible outcomes that you can showcase later on. These measurable results will carry weight in interviews, enabling you to provide concrete evidence of your capabilities. Look for opportunities to make a quantifiable impact, whether it's improving a process, increasing efficiency, generating revenue, or implementing a successful initiative. By focusing on outcomes that can be measured or quantified, you demonstrate your ability to deliver tangible value and make a meaningful contribution.