Our team of experienced consultants takes great pride in adopting a collaborative approach with both our valued clients and talented candidates. We are committed to providing a cost-effective service that ensures perfect placements for our clients. At The Graduate Project, we understand the value of your time and the importance of allowing you to focus on your core business. We excel in what we do best, so you can concentrate on what you do best. Our streamlined process ensures that the recruitment experience is quick, smooth, and hassle-free, providing you with the additional manpower and expertise you need in no time.


Our rigorous selection process focuses on matching individuals not only to their industries but specifically to their roles, skills, and company culture. We are dedicated to delivering excellence and tangible results, which is why we only place the very best candidates who align with your unique requirements. Our ultimate success lies in knowing that our candidates will have every opportunity to thrive and reach their full potential within your organisation.
The Six-Step Process
We use a simple and effective six-step process to make sure we are able to hire the most suitable candidate for your role.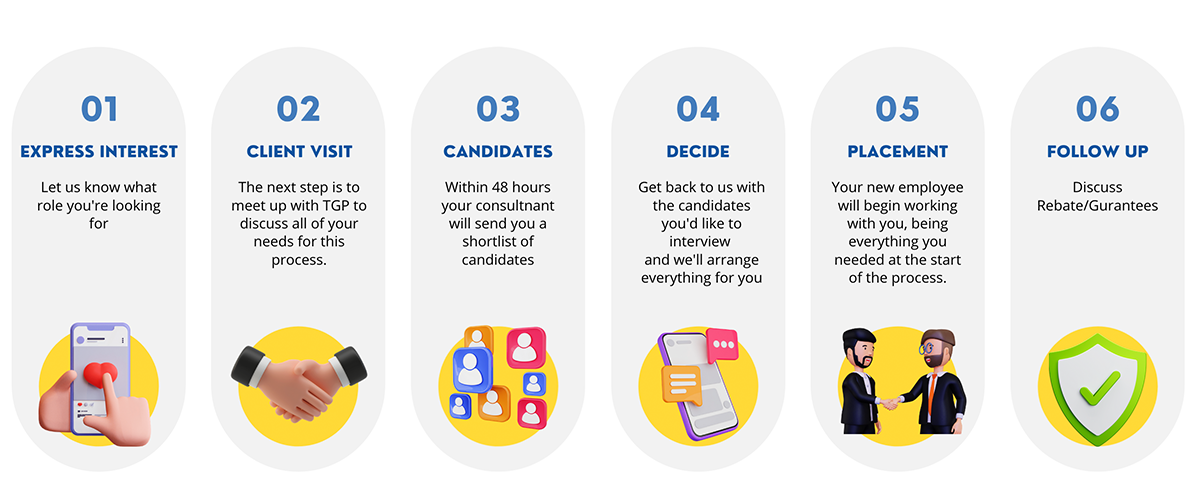 Graduate Hires
With a proven track record in recruiting graduate candidates, we cater to those who are new to the employment market, as well as those who have already gained experience in their respective industries. Our first-hand experience as millennial graduates has enabled us to design services that effectively match graduate recruiters with exceptional talent. Our unique approach goes beyond standard online advertising, as we have established partnerships with over 50 universities across the UK. These partnerships allow us to engage with graduates before they enter the job market, coaching them to possess the skills that are in demand. We support these graduates throughout their entire careers, ensuring a comprehensive approach.

Graduate Programmes
We assist our clients in attracting the right talent for their graduate schemes, leveraging the rigorous nature of our selection process to ensure they acquire high-caliber individuals. For businesses that have yet to establish a graduate scheme, we provide valuable support in setting one up based on our experience in helping clients create successful programs.
Internships
At The Graduate Project, we pride ourselves on being more than just a recruitment company. In addition to graduates and candidates with Qualified By Experience (QBE), we offer bespoke internship schemes for our clients. Please inquire about our free advertising service, which utilises our extensive network to attract top-notch intern candidates for your organisation.
Experienced Hires with Degree / Qualifications
Our expertise extends beyond graduate recruitment. We understand that a degree never expires, and we match candidates with relevant degrees or qualifications to meet your specific requirements. With a network of over 200,000 experienced candidates actively seeking new opportunities, we ensure a vast talent pool for your consideration. The Graduate Project supports candidates with up to 10 years of employment experience alongside their degrees or qualifications. From CV searching and screening to selection, interviews, and assessment days, our comprehensive candidate management services are free. And if you don't hire one of our candidates, there is no fee.
Executive Search
For more challenging roles that require a tailored approach, we provide executive search services. Our senior recruitment consultants possess the experience and network necessary to find the right candidates, particularly for senior-level vacancies within your organisation.
Temporary Hires
Should you find yourself faced with short-term staffing needs or periods of increased demand, our temporary hires service provides you with the flexibility to meet those needs effectively. Hiring temporary employees through The Graduate Project allows you to quickly bridge the staffing gap and ensure that essential tasks are completed efficiently. Our temporary hires are well-suited to handle time-sensitive projects, seasonal work, or unexpected workload surges. We understand that flexibility is crucial during such periods, and our extensive network of qualified candidates enables us to swiftly match you with skilled professionals who can seamlessly integrate into your team.
Multiple Hires
If your business is experiencing rapid growth and you need to make multiple hires, or if you're an HR team seeking a cost-effective and efficient recruitment drive, we offer flexible rates based on the number of hires. Whether you need to fill positions all at once or over an extended period, we assign the consultants best suited to each role, ensuring that you have access to the very best candidates to support your team's growth.
Preferred Suppliers
We often receive inquiries about becoming a preferred supplier to our clients. We are happy to arrange a meeting and customise our recruitment services to meet your organisations unique needs.

To learn more about our services, please feel free to call us at 0207 043 4629 or get in touch using the contact form below.