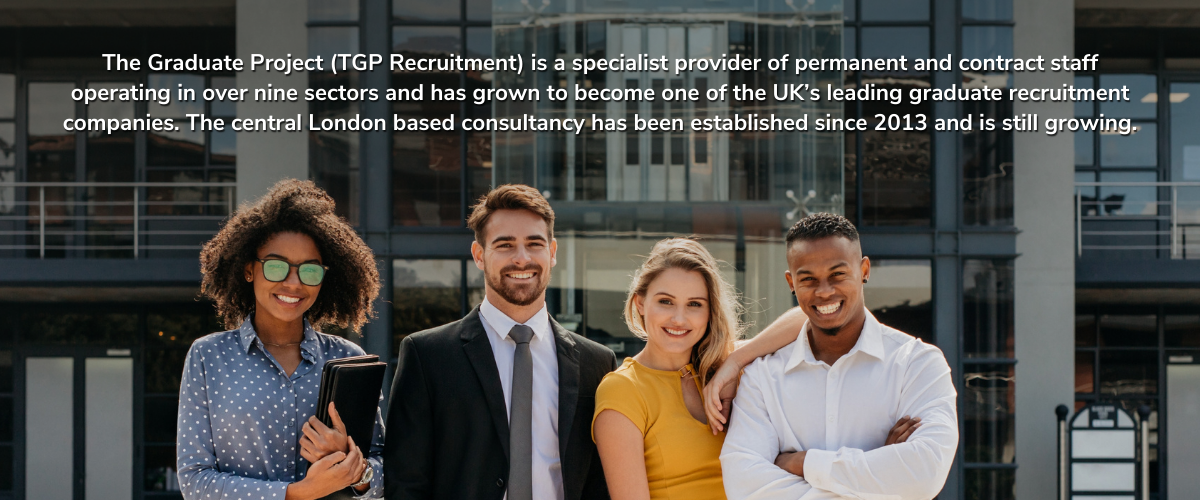 The Graduate Project is a leading recruitment consultancy that specializes in helping high caliber candidates prepare for their future careers. The company has achieved this by constantly innovating and employing forward-thinking strategies, which have resulted in delivering world-class services to both private and public organizations. The Graduate Project, we believe that the development of skilled talent is fundamental to the growth of the business landscape. As such, we have made it our mission to support educated professionals in gaining employment within various industries. Our approach is designed to introduce talented graduates to potential employers and provide them with the tools and knowledge they need to excel in their chosen fields.
Our recruitment consultancy has helped hundreds of candidates from different levels of education, including school-leavers, entry-level undergraduates, experienced graduates, and seasoned professionals, to find their ideal roles. Our services are not limited to the placement of candidates in jobs; we also work with our clients to share knowledge and provide support throughout the recruitment process. As a result of our dedication to providing top-notch services to our clients and candidates, The Graduate Project has established itself as a leading recruitment consultancy. We meet with over a thousand graduates face to face every year, providing them with the opportunity to showcase their skills and abilities to potential employers.
In conclusion, The Graduate Project is committed to developing a new generation of skilled talent by providing high-quality recruitment services to both candidates and clients. We believe that our innovative and forward-thinking approach will continue to help educated professionals achieve their career aspirations and make a significant impact on the business landscape. We understand the importance of building strong relationships with our clients, and we strive to deliver bespoke high-level services to fulfil their candidate requirements. Our team of talented and experienced professionals is committed to going above and beyond to exceed our clients' expectations, ensuring they return to us time and time again.
Who do we work with?
We take pride in innovating in the recruitment sector and pushing the boundaries of client expectations to establish sustainable relationships for the future. We work with a diverse range of clients, including Corporate Clients, Not-for-Profit organizations, SMEs, and Start-ups. Every single client is important to us and that is why our talented and experienced team pride themselves on a bespoke high level service that will not only fulfill candidate requirements but will keep our clients coming back to us time and time again.The Graduate Project strive to innovate in the recruitment sector and push client expectation boundaries to build sustainable relationships for the future.Types of clients we work with:
Corporate Clients
For our Corporate Clients, we specialize in finding the best graduates in a highly competitive marketplace. We have the expertise to support our clients with experienced and qualified professionals who can make a significant difference to their company's success.
Not for Profit
We also work with Not-for-Profit organizations, helping them find passionate graduates with the ethos and drive to support their mission. We understand the unique challenges faced by charities and organizations, and we're committed to finding candidates who can help them achieve their goals.
Small to Medium Enterprises
For SMEs, we provide tailored recruitment solutions to help them secure the appropriate graduates for their business. We understand the importance of finding candidates who not only have the necessary qualifications but also possess the right personality traits to fit within the company culture. We can also assist in developing internal graduate programs to help SMEs grow their workforce.
Start-Ups
Finally, for Start-ups, we have the experience and ability to attract hard-working graduates who understand the ground-up nature of a new business. Our candidates trust us to partner them with companies that are at the beginning of their journey but have an exciting future ahead. We work with start-ups to find the talent they need to help them succeed and grow.
In summary, at The Graduate Project, we work with a diverse range of clients and tailor our recruitment solutions to meet their specific needs. We're committed to providing exceptional services to our clients, building sustainable relationships for the future, and helping them find the best talent to drive their businesses forward.